What to Expect taking the Basic Rider Course
Posted on Thursday, April 9, 2020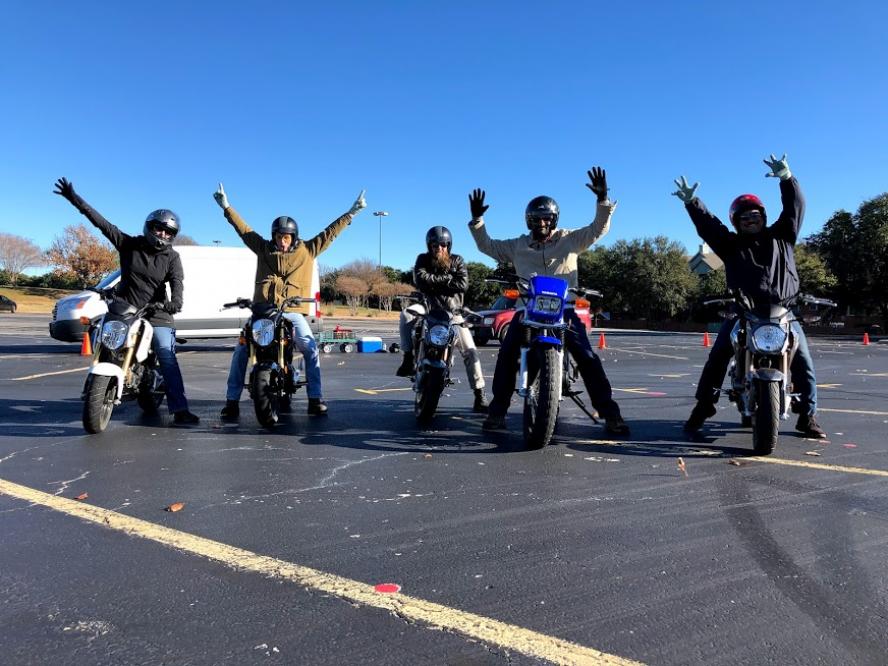 Photo: Happy graduates!
Everyone has different motivation for taking a motorcycle class.  Some have just always wanted to try it and have no experience.  Others rode years ago and want to get back into riding.  Some just have it as a bucket list item.  For some, it can be very personal and emotional, connecting with a relative who rides or used to ride. 
Whatever your motivation, there is a common thread; there's always just a little bit of nervousness that comes with signing up for a motorcycle class.  I want you to know that's completely normal.  This article is designed to give you an idea of what to expect in class and perhaps ease some of that anxiety.
First of all, this course is a basic course.  It's designed for someone who has never even seen a motorcycle.  We assume you have no experience.  And if you do have experience, we promise you won't be bored!  Usually there are some tips you can pick up from class and the Coach will really appreciate having you there.  As a coach, we only get to ride one demo.  If we have a stronger rider out there, it gives the newer riders someone to watch and learn from. 
BEFORE CLASS
There's a handful of things that you must have to show up to class.
1) The E-Course that you take as a pre-course assignment covers the basics of the controls and some street strategies that are unique to riding a motorcycle.  This course is content that used to be covered in the classroom.  This way you get 5 hours of classroom knocked out at home before you even get to class.  This means more ride time and no classroom time.  It also means that we can start riding on the range in the morning instead of the afternoon in the hotter months.  This makes for a more comfortable experience.  Once you choose a date for your class and get signed up, you will receive a confirmation email that will contain your personal code to access the E-Course.    You don't have to complete it in one 5-hour session.  You can watch 45 minutes and log back in later and it will pick up where you left off.  The E-Course needs to be completed within 30 days of the start date of your class.
2) Riding Gear is going to be needed on the first day, in the morning, so be sure to have it with you (or at least in your vehicle) when you show up to class in the morning.  You may not have time to go get it from home once class has begun!  You need to bring:
Boots that cover your ankle.  These need to be sturdy.  No canvas high tops.
Jeans or other sturdy pant with no holes. No leggings or yoga pants.
Long sleeve shirt or jacket. Light color and light weight fabric is suggested.
Eye protection.  These can be glasses, sunglasses, googles, or a visor if you bring a helmet.
Gloves should be full finger gloves.  If you don't want to invest in a good pair of motorcycle gloves right now, you can get mechanic gloves from an auto parts store. 
Helmet - we can provide a helmet if you don't have one.  We have 3/4 helmets available so you would need to bring eye protection for certain. 
The day before class, you will get an email from Lone Star Bikers reminding you of your class start time and specific directions to your classroom location.
CLASS TIME!
DON'T BE LATE TO CLASS!  This is really important.  We have a lot of material to cover and it's imperative that you show up on time.  Texas DPS has strict guidelines on tardiness.  Please don't be late!  The class is scheduled for 10 - 11 hours of riding.  We have a lot of material to cover in 2 days.  
The riding will be spread over 2 days.  There are 14 riding exercises followed by a riding skills test.  Remember, this curriculum is for a beginner.  It's a slow, step-by-step process.  The first exercise is time spent with the motor off, locating and operating the controls to become familiar with the motorcycle.  The tested items will be skills that you have practiced within the class itself.  There are no surprises.  You will have seen and ridden everything you will experience in the test, just in a different format.  
END OF CLASS
If you successfully complete the class, you will get the completion card.  You can then take this card to a DPS license office to add to your driver's license.  You will need to turn in your existing Driver's License, the completion card and $16.  They will have you do an eye test and they will take a new photo of you.  There is no additional testing to be done with DPS (unless you are under 18). 
If you are unsuccessful in class, don't dispare!  Majority of people do successfully complete the course on the first try, but we have had several that needed to take it more than once to pass.  That's OK!  I handle each student on a case by case basis to see how best to handle thier particular situation.  If you find yourself counseled out or failing part of the course, call me and we will discuss the best way to approach your particular situation.  A lot of times, I want the student in my personal class so I can offer a reduced rate.  Sometimes we do a (free) remedial session before they retake the class.  It's just based on that student's situation.  Some of my most passionate riders that stay in touch are the ones that had to try a bit harder than most. 
It's also OK if you decide during class or after class that motorcycles aren't for you.  Motorcycles are a calculated risk.  And you don't know what that calculation is until you've tried it.  And some decide it's just not fun.  And that's OK!  We're glad you gave it a try!
If you're ready to sign up, click here!
See you out there!
Carrie
----------------------------------
If you've got experience and a bike, the Intermediate might be the class for you.  Be sure to check out our flow chart to see what class works for you.