The IRC - What to expect
Posted on Thursday, April 9, 2020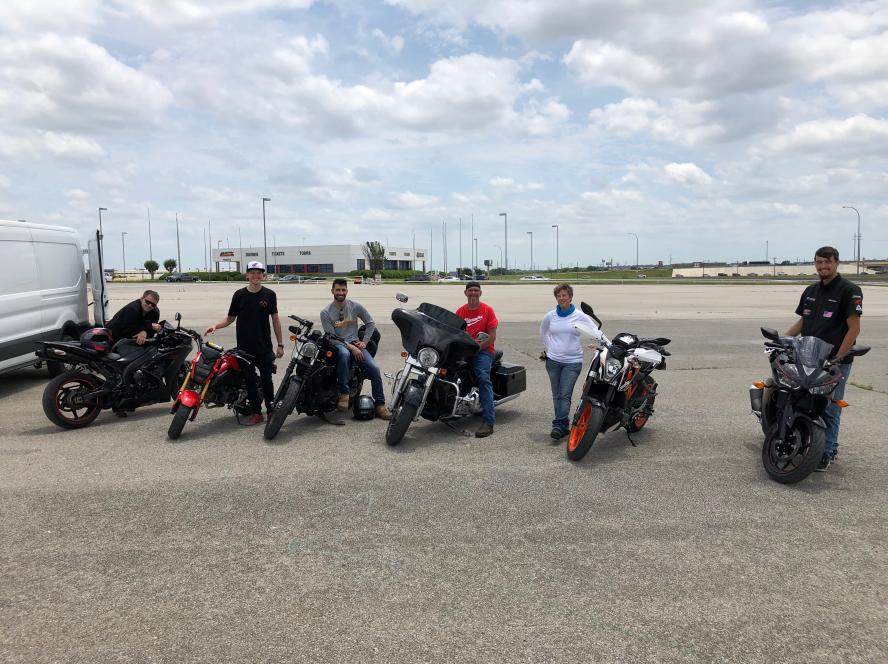 Photo: Recent IRC class grads - all smiles!
It's OK.  I get it.  You have been riding awhile and aren't super thrilled about having to take a motorcycle class to get your license.  Majority of the students in this class are in the same situation.  Gotta get that license. 
Guess what?  I have the perfect class for you.  It's called the IRC (Intermediate Riding Clinic).  And I promise you one thing - you will have fun doing it. 
Yep, it's true.  The class is a blast.  I personally teach all of the IRCs and it's one of my favorite classes to teach.  I know you know how to ride.  That's not the point.  This class will give you a greater understanding of why your bike behaves the way it does so you understand how to correct and control the bike.  Total Control means to put the bike where you want it, when you want it there.  This is about raising your skill level and really starting to understand how what you do affects your bike's performance. 
The class is structured with classroom and range (riding).  There is a written test at the end, but I make certain you are very perpared for it.  And I also promise that the classroom won't be Death-By-PowerPoint.  I try to keep it light and entertaining while you get all the good info to get to know your bike better. 
On the range, we do have 4 riding evaluations.  These skill tests are done immediately after you have practed the skill.  For example, we'll work on braking, you'll get some instruction, and then we test on braking.   Makes for a very low stress situation.  All of the State required testing is done in class - no further testing will be required for you at the DPS office.  Upon successful completion, you get a card that you simply take the the DPS license office.  You will turn in your existing Driver's License and that card and they will add your motorcycle license. 
What bike to bring
I get this question occassionaly.  Students are worried about their bike being too big or heavy.  Don't worry about it!  In fact, if you have multiple bikes, I'd tell you to bring the one you find the most challenge in riding.  I bet we can find some tips to help you out.  This curriculum is based on full size bikes.  There isn't a tiny u-turn box.  This class is designed to help you get more control and confidence, on that sport bike, bagger or anything in between. 
Fun fact - after taking the IRC, most of my students want info on the Advanced class.  Turns out motorcycle classes can be fun!
Click here if you're ready to sign up!
If you have more questions about class before signing up, don't hesitate to call. 
I hope to see you soon! 
Carrie